Dictionaries are made so they can simplify your life. That's why we decided to gather in one place all of the important terms in eCommerce. Did we miss something? Don't be shy and ping us. The beer is from us.
A/B Testing is a way to compare two versions of something to figure out which performs better. The testing is widely known to be used within apps and websites and it is allowing you to improve your customer's journey. Testing could be done on a client-side and as well on a server-side.
Abandonment is a term used in the eCommerce field that is describing when a visitor on a web page leaves that page before completing the desired action. Some of the abandonment examples include shopping cart abandonment that is referring to visitors who add items to their online shopping cart, but exit without completing the purchase.
Address verification service (AVS) is a service specially designed by MasterCard to stop CNP fraud. It can limit fraud and chargebacks when used effectively.
Average Order Value (AOV) is tracking the average currency amount spent each time when a customer places an order on a website or mobile app. To calculate a company's AOV you need to divide the total revenue by the number of orders.
Average time on site (ATS) is the average time a customer spends on your website. It is calculated by the time difference between the point when a person lands on the page and when they move on to the next one. The trigger which is causing the calculation is when someone clicks on a link to go to another page in the website.
Business-to-business (B2B), also called B-to-B, is a form of agreement between businesses. B2B is referring to a business that is conducted between companies such as manufacturers and retailers, rather than between a company and end-customer.
Business-to-Client (B2C) is referring to selling products and services directly between a business and customers who are the end-users of its services or products.
Business to government (B2G) is the process of doing sales and marketing of services or goods to federal, state, or local agencies.
Behavioural marketing is using all the available information from consumers – IPs, cookies, search and browsing data history, in order to create a more accurate profile of the users and therefore tailor more accordingly the marketing messages.
Benchmarking is the comparing of business processes, product positionings and performance metrics to industry's best practices and top companies in the selected business field.
Bounce Rate is the proportion of single-page sessions divided by all sessions or the percentage of all sessions on your site in which users viewed only a single page and triggered only a single request to the Analytics server.
Brick & click store is a business model used by retailers to operate and offer their customers the option to choose whether to shop in their online store or physical retail outlet. This way shoppers can decide whether to shop online or offline from their retailer.
Cart Abandonment Rate is showing the rate of interested potential customers who leave your site with products in their online cart without buying anything compared to the total number of created shopping carts.
Churn Rate is the percentage of your users or customers who cancel or don't renew their subscriptions over specified period of time.
Consumer packaged goods (CPG) are goods like food, beverages, household toll, etc. that are used on a daily basis by the customers and need to be constant replenishment.
Content is the visual and textual material that is created to attract potential customers over an electronic network. Content could cover different aspects like visuals, blog posts, tutorials, posts made by users, product descriptions.
Cookies are small pieces of data that are stored on users' computers by the web browser. They're collected while users are browsing and they were designed to be a mechanism for the websites to remember useful information or to record the one's browsing activity.
Customer Relationship Manager (CRM) – According to Salesforce (and we couldn't agree more), CRM is a technology for managing all your company's relationships and interactions with customers and potential customers.
Conversion Rate Optimization (CRO) is understanding your site visitors and how to convert them into actual customers so you can increase your profits.
Cross-selling is a technique that is quite often used by marketers to offer related products to customers who've already bought something from the retailer.
Crowdsourcing is the practice of utilizing the understanding of needed services, ideas, or content from a large group of people from the online community rather than traditional employees or suppliers.
Content Management System (CMS) is a software that is helping users create, manage, and modify content on a website without the need for specialized technical knowledge.
Comma-separated value (CSV) is one of the most used types of Excel files. It is a delimited text file that uses a comma to separate values and each line in the file is a data record.
Call to Action (CTA) is a tool used by marketers to guide the customers or users what might be their next steps.
Customer acquisition cost (CoCA) is referring to the cost someone is paying in order to bring in new customers or convince them to buy your services or products.
Customer lifetime value (CLTV) is a metric used by businesses to understand how much revenue they can expect a customer to generate over the course of their mutual business relationship.
Digital Shelf is how and where a brand's product is displayed online, whether on a product description page on a retailer's site, а third-party marketplace, mobile app, personal website or any other eCommerce channel. This is where digital consumers go browsing, discovering or purchasing products. The digital shelf in its core is a lot similar to a physical retail shelf.
Email marketing is a tool that helps you connect with your prospects to promote your brand, new products and services, tell stories, announce news, improve cart abandonment rate. This way you can increase your sales and turn prospects into customers.
eCommerce conversion rate is the proportion of transactions to sessions, expressed as a percentage.
The Frequency of purchase is the summed number of times when an average customer buys a good or service from a single seller during a given period.
Google Ads – as it's coming from its name is developed by Google and is used as an online advertising webspace where advertisers bid to display brief advertisements, service offerings, product listings, or videos to web users.
Google Analytics is letting you measure your advertising return of investment and at the same time track your video, and social networking sites and applications.
Google Tag Manager (GTG) is used for managing tags (such as measurement and marketing optimization JavaScript tags) on your website. You can use GTM user interface without the need of editing your site code. You can add and update Google Ads, Google Analytics, Floodlight, and non-Google tags.
Image/ Alt Text is the written content that appears in place of an image on a webpage when the image fails to load. Using this text screen-reading tools manage to describe images to visually impaired readers and is allowing the search engines to get better crawling results and rank the supposed website.
Inbound Marketing is a tool that attracts customers by specially tailored content and experiences that are valuable to them.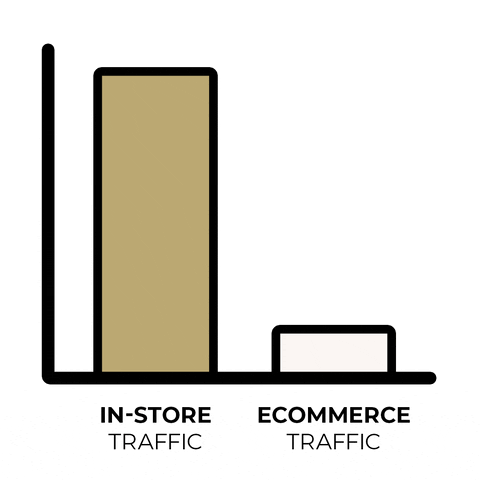 Stay tuned for the second part of the eCommerce Dictionary! Besides, make sure to follow NW360CS on Facebook and LinkedIn.